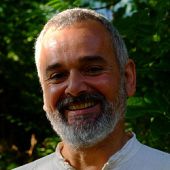 Meditation, in English, closed after 10 minutes, 1 hr.
Yorgos will share a 45 minute Yoga Nidra session, guiding you through the stages of Yoga Nidra, which include relaxation, the rotation of consciousness, visualisation, and a effortless deeper level of meditation.
Yoga Nidra provides a deeper relaxation and connection with our inner most Self, it can also guide people to go beyond the mind, to the deeper state known as Turiya.
Workshopzeiten: Fr. 20.00 - 21.00 o.G.
Referenten: Yorgos